Can I start any time or are there specific semesters I must enroll within?
You can start at any time. LCUonline™ students operate independently from the semester system used at Main Campus.
May I obtain my Master's or Doctoral degrees via LCUonline™?
Yes. See our Degree Programs page.
May I take LCU courses if I don't want to pursue a degree?
Yes. There are usually two reasons for people to study at LCU without pursuing a degree:

You desire spiritual growth on the highest level possible, but have no need of a degree. In such cases, you may earn Certificates of Completion of each program without having to provide proof of high school graduation.
You have not graduated from high school and therefore cannot qualify to enter a degree program. Since the work you will be doing is the same either way, you may complete a GED program (high school equivalency) at any time after starting LCU, submit proof of completion, and then have your completed certificate coursework converted into degree credits at no charge.

NOTE: After completing 60 credit hours as a certificate student (earning a GPA of C or better), students will have demonstrated their ability to study at the university level and may enroll in the university and begin to earn credits toward a degree (The 60 hours of certificate study do not count toward their degree).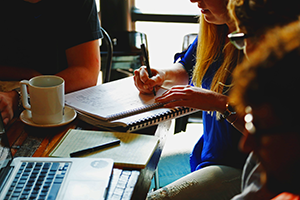 What courses will I be required to take first at LCU?
All students are required to take Program 1 unless they have previously attended a ministry education institution similar to LCU in its theological approach. This exemption will be determined during the assessment phase of enrollment, during which time the student may begin the first course of Program 1, "Principles of Faith".
What online degrees are available?

You can currently earn a Bachelor's Degree in Theology, Pastoral Ministry,  Christian Education,

Christian Counseling,

Christian Leadership and Growth, and Music Ministry. Master's degrees include Theology, Pastoral Ministry, and Christian Education.

What is included with each course?
You will receive a course outline, an exam and/or research paper assignment, your required textbook(s), and access to the lectures by video or MP3 (typically 10-12 per course, depending upon the course format).
How do I begin?
First, there are 2 basic computer software requirements.

LCUonline™ currently supports only these web browsers:

Apple Safari (macOS, iOS)
Google Chrome (macOS, Linux, Android, and Win7+)
Mozilla Firefox (macOS, Linux, Win7+)
Microsoft Internet Explorer 11 (Win7/8/8.1)
Microsoft Edge (Win10+)

NOTE: To protect our students' personal information as well as our corporate servers, LCUonline™ does not support any browser running on a PC using WindowsXP and older. We also do not serve our videos in Adobe Flash format for the same reason.

You will also need software which can read and print Adobe Acrobat (PDF) files as well as access to a printer so you can print the course outline and test.

NOTE: If you own a PC and do not have Acrobat Pro, Adobe Reader is a free download. MacOS/iOS users without Acrobat Pro may either use macOS' Preview.app or the macOS version of Adobe Reader.

In case your Internet access is too slow to support online videos, we have also included audio-only versions of the lectures in MP3 format. To download the MP3 file rather than playing it in your browser window, click the download icon next to the desired session in the Sessions List on the course's web page. You may then either listen to them on your computer, transfer them to your favorite MP3 player, or burn them onto a CD.

NOTE: Lecture videos are for online playback only, never download.

Before taking any courses, you must first create an LCUonline™ user account. Please carefully read and follow all directions found there.

What if I have trouble logging in?
Click on the "Having Problems Logging In?" link on the LCUonline™ login page. You will be presented with a series of yes/no questions which will walk you through the troubleshooting process.
How do I purchase a course?

Log into LCUonline™ using your username and password.
Click on the button labeled 'My Learning Center' on the Main Menu.
Once inside the Learning Center, you will be presented with a list of all available courses.

NOTE: The system knows which courses you have already purchased online and/or taken at a physical LCU campus. All courses previously completed at an LCU physical campus will be automatically credited to you as though you had purchased them on LCUonline™.

Once you have successfully made a purchase, whenever you return to the Learning Center Main Menu, you will see that the Pay icon in the Actions column next to your newly purchased course has been replaced with View icon. Clicking the View icon will take you to the page for that course.
From the course's page, you may download your course outline and view/listen/download course lectures.
Your textbook(s) will be delivered to the mailing address specified during the purchase process within 3 business days.

NOTE: LCU business days are Monday-Thursday except for holidays. LCU observes the following holidays: New Year's Eve/Day, Memorial Day, July 4, Labor Day, Thanksgiving Day/Black Friday, and Christmas Eve/Day.

After you complete your coursework, you must fill out the online form "Student Course Completion Affidavit, along with your final exam and/or research paper, to your student advisor at LCU Main Campus for grading.

Are there any tuition discounts or scholarships available?
Yes!

Immediate family members enrolled in LCUonline™ at the same time will receive a 10% discount on each course. For example, a husband and wife attending at the same time as undergraduates pay $180 per course per person, instead of $200. The same would hold true for any grouping of parents and children or multiple children.

NOTE: High school seniors who have not yet graduated from high school may also attend LCU. Credits earned will be held in reserve until the student graduates from high school. Upon presenting a high school diploma or GED certificate, the completed courses will be converted to college credit and any appropriate degrees will be issued, all at no charge.

NOTE: Family discounts are available to LCUonline™ and Main Campus students only.

Active-duty military personnel and veterans of the United States military are also eligible for a 10% discount on online tuition.

How do I track my academic progress (grades, credits, etc.) and/or update my own contact information?
Click the "My LCU Records" button on the LCUonline™ Main Menu to update your personal contact info as well as examine your academic records.
How long do I have to finish a course?
There is a maximum of 90 days to complete a course.
May I begin before you have my college transcripts?
Yes. You have 60 days from enrolling in your first course to send your original sealed transcripts for advanced placement credits. After the 60-day period, a $70 Reassessment Fee will be charged.
May I finish a course quicker than 4-6 weeks?
Yes. You may go as fast as you wish.
Where can I obtain student forms online?
Click on the 'LCU Documents Master' button on the LCUonline™ Main Menu.
Who has online access to my student records?
You, period.
Who has access to my password?
You, period. Again, no one at LCU has access to your password, ever, period. You are solely responsible for remembering your login credentials.
What if I forget or lose my password?
If this happens, you will have to use the Reset Password/Account button we've provided on the LCUonline™ Login Page for solving that problem. Once there, you'll enter and submit the email address you entered when you established your LCUonline™ user account. An email will be sent containing a link to a page where you can enter a new password. If the email does not show up in your inbox, be sure to check your spam folder.

NOTE: If you have been locked out of your account due to too many failed login attempts, this process will reactivate your account, as well.

What if I want/need to change my password?
Once you've successfully logged in using your existing password, click on the 'Change My Password' button on the LCUonline™ Main Menu.
What if my email address changes or my name changes because I got married?
Once you've successfully logged in, click on the 'Change My Legal Name' or 'Change My Email Address' buttons on the LCUonline™ Main Menu to change your name, email address, or both.